|
Running time : 23:24 min
Actors : Brittany Amber, Vance Crawford
Description
It's a nice, sunny day as Brittany Amber lounges by the pool, waiting for her man, Vance Crawford, to join her. But Vance has become preoccupied by a sexy magazine he found upstairs. He's busy rubbing his chubby while Amber calls his name repeatedly from down by the pool.

When she finally goes upstairs to see what's the holdup, she finds him touching himself, completely unconcerned that she's been waiting. When he grabs for her, she knows what he wants, but is miffed he didn't join her outside. But she can't resist Vance's luscious cock when it's so big and throbbing! After very little resistance, she's got his member in her mouth, slurping like a fiend. And once Vance gets his motor running, he doesn't shut it off until he gets what he wants. Watch Amber handle Vance's man meat while he pounds her 5 ways from yesterday!

Enjoy!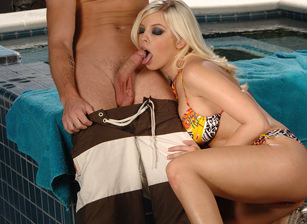 Recommended Movies
No records were found that match the search criteria.