|
Running time : 32:47 min
Actors : Darcy Tyler, Ty Roderick
Description
Sometimes hot action blindsides you like a thunderstorm on a summer night. Ty Roderick knows this type of spontaneous rush. When Darcy Tyler ties a blindfold over his eyes, each of his other senses become heightened. It's an experience that pushes Ty to the very edge of his threshold for passion.

The sensual feeling of Darcy's caresses introduce Ty to a new level of erotic pleasure. As she slurps his big, hard cock, watch Ty's anticipation build. Then witness him give Darcy the pounding she wanted when the blindfold comes off and they indulge all their senses in carnal satisfaction.

Enjoy!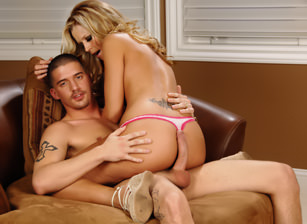 Recommended Movies
No records were found that match the search criteria.