|
Running time : 36:17 min
Actors : Rubi Knox, Cameron Foster
Description
Rubi Knox is so excited to have just received her first schedule as a professional masseuse. She's worked very hard to get here and can't wait to give her boyfriend, Cameron Foster, a very special rub down.

But Cameron has only one thing on his mind, you guessed it, a happy ending. Rubi knows from massage school that any manipulation of the cock is strictly prohibited in a professional environment, so she tells Cameron it ain't gonna happen. She does have a surprise up her sleeve though. Once Cameron is lying naked on the massage table, enjoying Rubi's tender kneading, Rubi figures she'll take her shirt off to give her man a little eye candy with his rub down. When she sees the size of his swollen dick, she can't help but stroke it. Since he's already getting a little special treatment, she figures she'll go a step further and suck him a little. That only makes her hornier, so she climbs atop Cameron's hard cock and let's him fuck her for an ending reserved only for her favorite client.

Enjoy!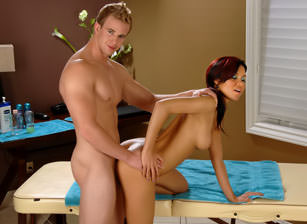 Recommended Movies
No records were found that match the search criteria.