|
Running time : 34:00 min
Actors : Charity Bangs, James Huntsman
Description
Climb aboard and get ready for a rippin' ride on the back of one badass four-wheel-drive vehicle. You'll join off-road enthusiasts James Huntsman and his main squeeze, Charity Bangs. James has decided to take an unconventional approach to four-wheeling this time. He's not even going to take the vehicle out of the garage or even start up the engine. His plan is to get Charity fully naked and see where the adventure goes.

Charity can feel James's boner swelling as he shows her various functions of the all-terrain machine. She likes the feeling of the seat's leather between her legs and James's warm body behind her. She can't help but surrender to his advances. Once she gets a taste of his rock hard dick, she can't get enough. Watch James give Charity one helluva ride in this sexy garage romp!

Enjoy!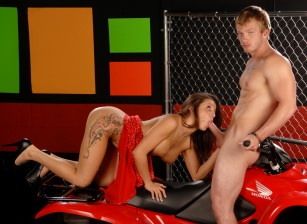 Recommended Movies
No records were found that match the search criteria.