Rick Ravishing & Madsion Mason
|
Running time : 18:37 min
Actors : Madison Mason, Rick Ravishing
Description
You've seen him on our other sites playing with the men, now see him playing with the women. Rick Ravishing cum's full force and ravishes the beautiful Madison Mason. These two start out in the hot tub with some hot oral action. Rick fucks Madison's mouth deep and hard in the hot tub while she enjoys feeling his big busty balls against her chin. They make their way up to the bedroom kissing and throwing there towels off. Rick wastes no time in ravishing Madison. Madison continues to suckle on Rick's thick cock in the bedroom. After having his cock and balls drooled on Rick bends Madison over the bed with one leg up for a ravishing fuck. This guy's cock is so thick the little Madison Mason can barely handle it. Come check out Rick busting a very hot load all over Madison's tight fit stomach.

Enjoy watching Madison get ravished.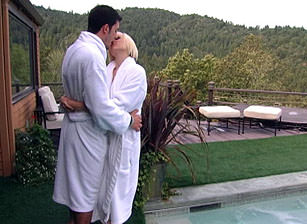 Recommended Movies
No records were found that match the search criteria.