Phenix Saint & Jessie Cox
|
Running time : 22:05 min
Actors : Jessie Cox, Phenix Saint
Description
It's a perfect day for soaking up rays by the cabana. Phenix Saint is lounging in his undies, just hangin' out and relaxing. His friend Jessie came over to enjoy the sunshine with him and goof around a little. Jessie is wearing her lucky, blue bikini and loves the way her ass looks in it. Phenix likes her ass too. That's why he's trying his darndest to talk her into getting naked with him. Jessie acts coy, but Phenix can tell she's craving a cock in her mouth.

Once these two are both a little more comfortable (and naked), Jessie gives in and jerks his meat. Check out Phenix's piercings as Jessie wraps her mouth around his rock hard boner. After a little fun, these two move to the shade and for some seriously hot action. This tattooed stud knows how to bang!

Enjoy!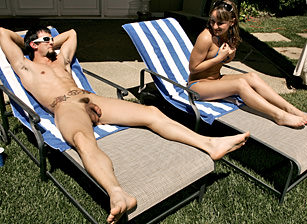 Recommended Movies
No records were found that match the search criteria.