|
Running time : 13:51 min
Actors : N/A
Description
So we were out partying looking for some action to film but we didn't have too much luck until we came home earlier than Nick had expected. Seems as though Nick did have some luck and we caught him in action with his new play thing Malaysia.

We told Nick that he could hook up with her at our place, but we were going to get it all on film. The two were so hot for each other that they agreed and we are glad they did! Malaysia is caught off guard when she gets her first look at Nicks massive pole but that doesn't stop her from giving Nick the best cock sucking we have ever seen.

This girl is a real pro with a dick in her mouth and Nick loves every sloppy minute. She gets Nicks cock so hard that he can barely fit it in her, but once he does this stud doesn't let up on her pussy and knocks the bottom right out of it.

Hope you enjoy!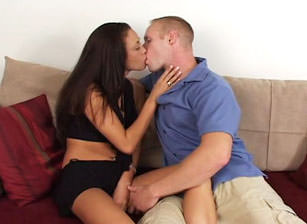 Recommended Movies
No records were found that match the search criteria.