|
Running time : 20:10 min
Actors : Coco Velvett
Description
Brec Boyd felt a little cooped up, so he decided to do a little work in the garden. It's a glorious day and Brec's mind was drifting to and fro, when the lovely and mysterious Coco Velvett seems to appear from thin air!

Brec can hardly believe his eyes as Coco saunters toward him sexily. It's no surprise that his dick becomes swollen and hard as she disrobes right in front of him. Before Brec can utter a word, his fat cock is in Coco's mouth, getting sucked for all its juices. Coco enjoys his hard rod in her mouth, but needs to be fucked as well. Brec can see this wanting in her enigmatic gaze. And he wouldn't think to deprive this sultry stranger of his hot man meat.

Enjoy!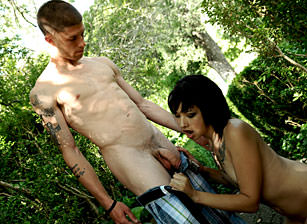 Recommended Movies
No records were found that match the search criteria.