Anthony Smith & India Summer
|
Running time : 17:42 min
Actors : India Summer, Anthony Smith
Description
The best way to beat a case of the boring blues is with a rousing game of Scrabble. That's what Anthony Smith and India Summers are doing. Anthony is quite a wordsmith and India is having a hard time keeping up. But when she scores big with 'FUCK,' Anthony takes advantage of the sexual tension and pulls out his meaty manhood for India to slurp on.

Anthony is a bit of a wild man and fucks like an escaped zoo animal. Watch India take his bulging cock while this horny gorilla unleashes a seriously intense pounding. This ain't no Jungle Book!

Enjoy!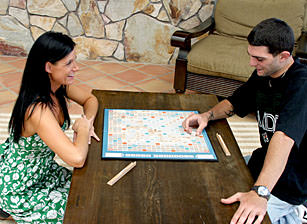 Recommended Movies
No records were found that match the search criteria.