Aaron Skyline & Rani Faris
|
Running time : 18:32 min
Actors : Rani Fairis, Aaron Skyline
Description
Make no mistake, Aaron Skyline is one smooth character. With only a quick look, young Rani Fairis melts in her place. Aaron can tell every time when he's got her with that look. He can see the hunger in her eyes and knows exactly what she's been wanting.

It's not hard to guess that she craves Aaron's thick man meat in and around her mouth. After getting warmed up, Aaron gives her what she needs and plunges his throbbing beast deep inside, fucking with the animal passion of a Tasmanian Devil, yet the smooth flavor of a secret agent.

Enjoy!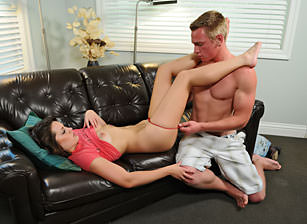 Recommended Movies
No records were found that match the search criteria.