Aaron Skyline & Coco Velvett
|
Running time : 21:41 min
Actors : Coco Velvett
Description
Aaron Skyline loves a good night's sleep. He just finished a dream about the lusty Coco Velvett, only to wake up to find Coco sticking her hands in his undies. Needless to say, it was perfect timing, because Aaron always wakes up with a rock hard cock, ready for action.

Coco couldn't wait any longer for Aaron to wake up so she could get that luscious dick in her mouth. And she knew Aaron would definitely be down for a good morning fuck session. It's always smart to start the day with a workout that ends with a satisfying bang!

Enjoy!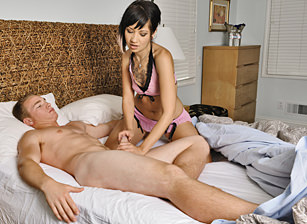 Recommended Movies
No records were found that match the search criteria.