|
Running time : 32:29 min
Actors : Krystal Main, Johnny Torque
Description
Poor little Johnny Torque is having trouble at school. His class schedule is out of whack and he's been sent down to the infamous, mean Ms. Krystal Main to have it sorted out. Ms. Main is busy in her office drinking tequila and smoking cigarettes when young Johnny shows up, nervous as heck.

She's short with him, putting him in his place with her sharp tongue and glaring eyes. He hopes not to spend too much time in her office, that is until he realizes Ms. Main plans on giving him an unorthodox, impromptu education on sex. Watch Johnny's eyes light up with surprise as Ms. Main pulls Johnny's clothes off and jerks his swollen dick. He's getting more than just help with his schedule today! Ms. Main has a taste for student cock and Johnny's is very much to her liking. Little Johnny can't believe the strictest teacher in school is blowing him! Shoving his rock-hard boner deep inside mean Ms. Main is not what Johnny expected today, but it's a lesson he'll never forget.

Enjoy!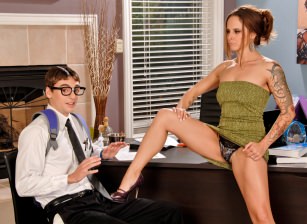 Recommended Movies
No records were found that match the search criteria.